The Federal Reserve Board released its survey results in June 2012. It focused on changes from 2007 to 2010.
The report states:
"The Federal Reserve Board's Survey of Consumer Finances (SCF) for 2010 provides insights into changes in family income and net worth since the 2007 survey. The survey shows that, over the 2007–10 period, the median value of real (inflation-adjusted) family income before taxes fell 7.7 percent; median income had also fallen slightly in the preceding three-year period (figure 1). The decline in median income was widespread across demographic groups, with only a few groups experiencing stable or rising incomes.Most noticeably, median incomes moved higher for retirees and other nonworking families. The decline in median income was most pronounced among more highly educated families, families headed by persons aged less than 55, and families living in the South and West regions. Real mean income fell even more than median income in the recent period, by 11.1 percent across all families. The decline in mean income was even more widespread than the decline in median income, with virtually all demographic groups experiencing a decline between 2007 and 2010; the decline in the mean was most pronounced in the top 10 percent of the income distribution and for higher education or wealth groups. Over the preceding three years, mean income had risen, especially for high-net-worth families and families headed by a person who was self-employed.
The decreases in family income over the 2007−10 period were substantially smaller than the declines in both median and mean net worth; overall, median net worth fell 38.8 percent, and the mean fell 14.7 percent (figure 2)."
See full report:Federal Reserve Board–Survey of Consumer Finances
This tracks with figures released by the Congressional Budget Office–Trends in the Distribution of Household income, comparing 1979 and 2007.
In brief:
"After-Tax Income Grew More for Highest-Income Households
After-tax income for the highest-income households grew more than it did for any other group. (After-tax income is income after federal taxes have been deducted and government transfers—which are payments to people through such programs as Social Security and Unemployment Insurance—have been added.)
CBO finds that, between 1979 and 2007, income grew by:
275 percent for the top 1 percent of households,
65 percent for the next 19 percent,
Just under 40 percent for the next 60 percent, and
18 percent for the bottom 20 percent."
Chart says a lot: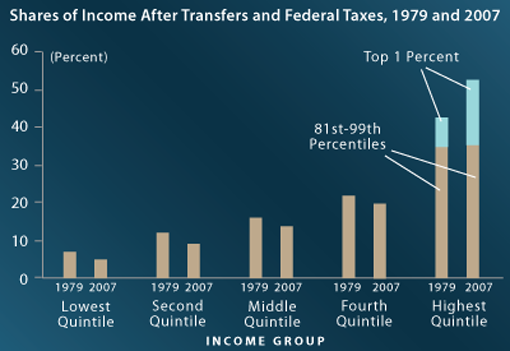 Source: Congressional Budget Office, Trends in the Distribution of Household Income 1979–2007.
Link: CBO Report