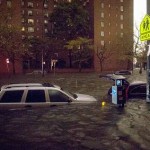 Published on Wednesday, October 31, 2012 by Commons Dreams
A Stormy Reminder of Why We Need Government
A job well done, from the local 911 switchboard to the White House
by David Morris
If this election is a referendum on the benefit of government then superstorm Sandy should be Exhibit A for the affirmative. The government weather service, using data from government weather satellites delivered a remarkably accurate and sobering long range forecast that both catalyzed action and gave communities sufficient time to prepare. Those visually stunning maps you saw on the web or t.v. were largely based on public data made publicly available from local, state and federal agencies.
As the storm neared, governors and mayors ordered the evacuation of low lying areas. Police and firefighters ensured these orders were carried out and helped those needing assistance. As the storm hit, mayors imposed curfews.
Government 911 and 311 telephone operators quickly and effectively responded to hundreds of thousands of individual calls for assistance and information. Indeed, the volume of those calls may lead us to propose a different answer to the question asked by those famous lines from the movie Ghostbusters. "If there's something weird and it don't look good who ya gonna call?" Government.
Public schools and other public buildings were quickly converted into temporary shelters. Transit systems and bridges were closed when public safety might be compromised.
Tens of thousands National Guard troops were mobilized to assist at evacuation shelters, route clearance, search and rescue and delivery of essential equipment and supplies. The military's USNORTHCOM placed its forces on 24-hour alert to provide medium and heavy lift helicopters and rescue teams, and activated local military bases for possible use by the Federal Emergency Management Agency (FEMA).
Before the storm hit state agencies required emergency preparedness plans from publicly regulated utilities and after the storm hit monitored their responses.
The President quickly issued Major Disaster Declarations that allowed states and communities to access funding for recovery efforts. His ongoing hands-on role earned him the fulsome praise of New Jersey's Republican Governor Chris Christie who told Good Morning America, "I have to say, the administration, the president himself and FEMA Administrator Craig Fugate have been outstanding with us so far."
Public agencies swung into action to protect bridges, and roads, and sewer plants and subways—and to plan for a cleanup that will require clearing debris, repairing infrastructure, and providing financial and other assistance to homeowners and businesses.
Seven years ago, Katrina showed the tragic consequences when government fails its duty to respond to natural disasters. But that was the exception that proves the rule. When disasters hit, the government is the only agent with the authority and capacity to marshal and mobilize resources sufficient to the undertaking. It can coordinate across jurisdictions and with both the public and private sectors. That's because its mission is not to enhance its balance sheet but to preserve the well being of its citizens. And in October 2012 it has shown how effectively it can perform that task.
This work is licensed under a Creative Commons License
David Morris is Vice President and director of the New Rules Project at the Institute for Local Self-Reliance, which is based in Minneapolis and Washington, D.C. focusing on local economic and social development.
Article printed from www.CommonDreams.org
A Stormy Reminder
Source URL: http://www.commondreams.org/view/2012/10/31-4
And another article at the US News and World Report by Susan Milligan. How nice it is to see some praise for public servants for a change:
Hurricane Sandy Proves Government Services are Vital