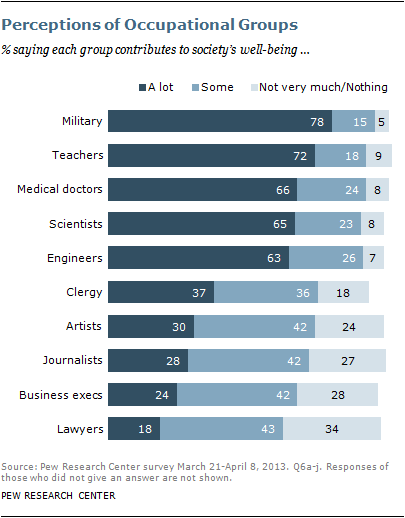 This out from PEW: Public Esteem for Military Still High, Clergy in the Middle, Lawyers at the Bottom, POLL July 11, 2013
PEW asked about 10 occupations in terms of their perceived contribution to society.
They wrote:
"Americans continue to hold the military in high regard, with more than three-quarters of U.S. adults (78%) saying that members of the armed services contribute "a lot" to society's well-being. That's a modest decline from 84% four years ago, the last time the Pew Research Center asked the public to rate various professions. But the military still tops the list of 10 occupational groups, followed closely by teachers, medical doctors, scientists and engineers. A solid majority of the public says each of those occupations contributes a lot to society.
"By contrast, just 37% of Americans surveyed think the clergy make a big contribution to society, about the same as in 2009. Regular churchgoers tend to be more positive about ministers, priests and other clergy members. But even among adults who say they attend religious services at least once a week, only about half (52%) rate clergy in general as contributing "a lot" to society, while 29% say the clergy make "some" contribution, and 11% say the clergy contribute "not very much" or "nothing at all."
"While there have been modest declines in public appreciation for several occupations, the order of the ratings is roughly the same as it was in 2009. Among the 10 occupations the survey asked respondents to rate, lawyers are at the bottom of the list. About one-in-five Americans (18%) say lawyers contribute a lot to society, while 43% say they make some contribution; fully a third (34%) say lawyers contribute not very much or nothing at all."
View Article Here