PEW:  Minimum Wage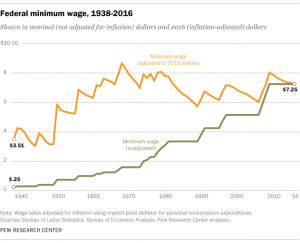 Five Facts:
Adjusted for inflation, the federal minimum wage peaked in 1968 at $8.68 (in 2016 dollars). Since it was last raised in 2009, to the current $7.25 per hour, the federal minimum has lost about 9.6% of its purchasing power to inflation.
Less than half (45%) of the 2.6 million hourly workers who were at or below the federal minimum in 2015 were ages 16 to 24. An additional 23.3% are ages 25 to 34, according to the Bureau of Labor Statistics; both shares have stayed more or less constant over the past decade. That 2.6 million represents less than 2% of all wage and salary workers. (See more about the demographics of minimum-wage workers
Twenty-nine states, plus the District of Columbia and nearly two dozen cities and counties, have set their own higher minimums.
About 20.6 million people (or 30% of all hourly, non-self-employed workers 18 and older) are "near-minimum-wage" workers.
The restaurant/food service industry is the single biggest employer of near-minimum-wage workers.
See data:Click Here