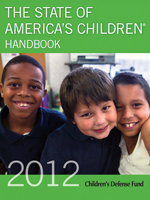 For those seeking data about children in America, the Children's Defense Fund recently released its annual report. The report, which can be downloaded, is at:
State of America's Children

It includes this critique of the Gross National Product by Robert F. Kennedy that I like. He raises questions about what we measure and the validity of those measures, and is far more eloquent than I am, who as a researcher would talk about operationalization of terms and content validity.
"Yet the gross national product does not allow for the health of our children, the quality of their education, or the joy
of their play. It does not include the beauty of our poetry or the strength of our marriages; the intelligence of
our public debate or the integrity of our public officials. It measures neither our wit nor our courage; neither
our wisdom nor our learning; neither our compassion nor our devotion to our country; it measures everything,
in short, except that which makes life worthwhile. And it tells us everything about America except why we are
proud that we are Americans."
– Robert F. Kennedy