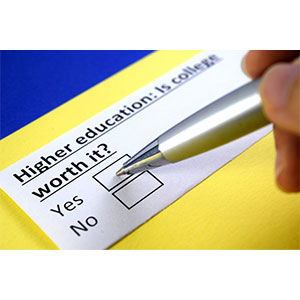 I posted PEW research awhile back about the differences among Millennials who do and do not go to college. Click Here for PEW article
John Hawthorne shared a recent article he co-authored, "Thinking of Skipping College".  It presents similar information in an accessible way. Click Here It is fun to see how statistical information can be presented.
They conclude: "It turns out that, despite the insistence of some, college is still incredibly valuable. The statistics prove that opting out of a university degree will dramatically hurt people in the long run, damaging their earning potential, increasing the likelihood of unemployment, and decreasing job satisfaction.
George Washington Carver said, "Education is the key to unlock the golden door of freedom." He may not have had access to the statistics, but it turns out he was right."
– See more at: https://www.cornerstone.edu/blogs/lifelong-learning-matters/post/thinking-of-skipping-college-here-are-6-stats-to-change-your-mind#sthash.sedV5o5Y.dpuf